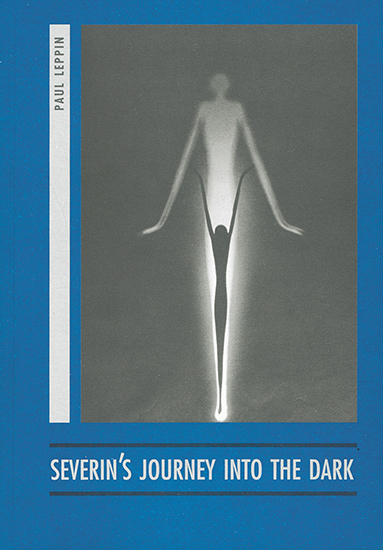 [ excerpt ]

Read an essay on
Severin's Journey here

also by the author:
Others' Paradise
Blaugast


severin's journey into the dark
A Prague Ghost Story
by Paul Leppin
translated from the German by Kevin Blahut
frontispiece by Richard Teschner

Leppin once wrote: "Prague remains my deepest experience. Its conflicts, its mystery, its ratcatcher's beauty have ever provided my poetic efforts with new inspiration and meaning." It is this city of darkened walls and strange decay that forms the backdrop of Severin's erotic adventures and fateful encounters as he enters a world of femmes fatales, Russian anarchists, dabblers in in the occult, and denizens of decadent salons. First published in 1914, Leppin seeks to unlock the mysterious erotic nature of his native city buried deep in the subconscious of its inhabitants. His depiction of this world, in a Prague straddling the border between the ancient and the modern, has brought Severin's Journey into the Dark deserved international acclaim. As Max Brod so aptly remarked: "Leppin was the truly chosen bard of the painfully disappearing old Prague..."



"Severin's Journey Into the Dark" was a powerful and memorable read; his journey back and forth between 'good' and 'evil', searching for some kind of redemption, is a difficult one and the ending is perhaps a little abrupt and inconclusive. Nevertheless, the image of old Prague which springs vividly from its pages will stay with me ...
... a gem, a beautifully spun tale ... Leppin walks us through the streets of Prague to weave a haunting atmosphere that enhances the tale's moody texture and provides an enticing peek at pre-World War I Prague.
— Prognosis


Recommended to anyone who is interested in the German fantasy tradition of Prague ...
— Locus Magazine


This novel would have been perfect material for a 1920s German Expressionist film, with shots of shadowy alleys dripping with menace and cadaverous black-eyed bar girls
... there is a compelling drive in this short tale.
— The Prague Post




ISBN 9788090125728
117 pp.
13.5 x 19 cm
softcover with flaps
1 B/W illustration
fiction • novella

release dates:
September 1993
latest reprint: July 2012
Order directly:
airmail postage & handling incl.
or order from:
Book Depository
Bookshops
Indiebound
Bookshop.org
Bookshop.org UK
Amazon US
Amazon UK
Central Books

e-book
Amazon US
Amazon UK
Amazon Canada
Amazon Australia
Amazon Germany
Amazon India
Amazon Japan
Kobo