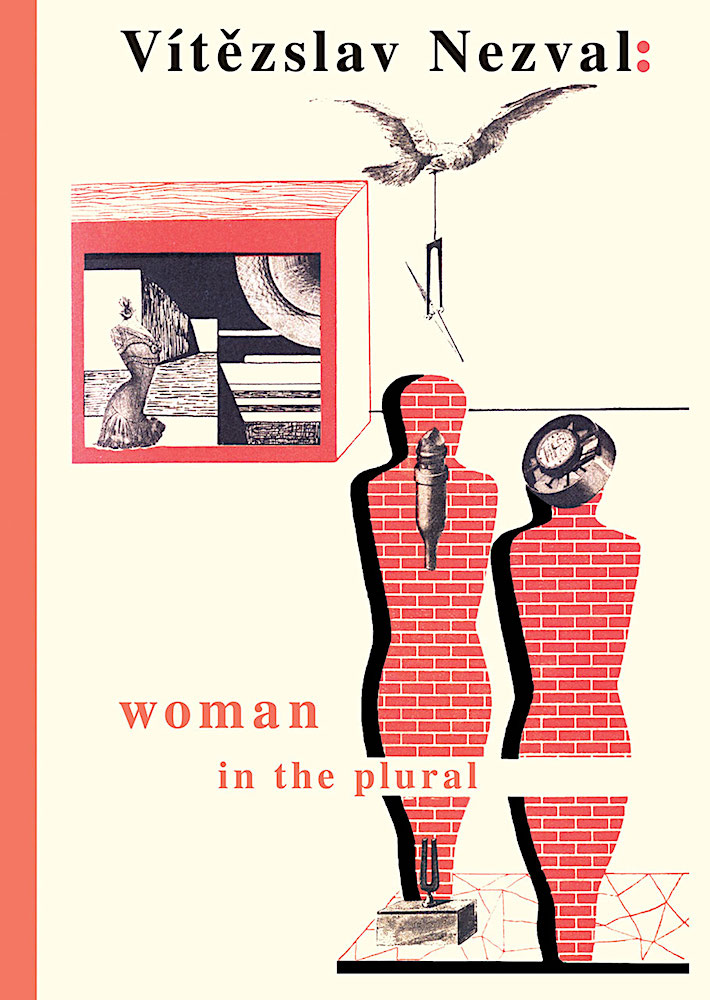 [ excerpt ]

Read a selection here


also by the author:
The Absolute Gravedigger
Valerie and Her
Week of Wonders
A Prague Flâneur
Edition 69
Antilyrik
Farewell and a Handkerchief


events:



woman in the plural
Verse, Diary Entries, Poetry for the Stage,
Surrealist Experiments
translated from the Czech
by Stephan Delbos and Tereza Novická
collages & cover image by Karel Teige

In the summer of 1935, Vítězslav Nezval, already one of the most celebrated Czech poets of his generation, embarked on a period of manic creativity that would result in three volumes of poetry written and published in a two-year span (1935-37), mirrored by three volumes of memoir-like poetic prose. These collections would not only reshape Czech poetry, blending approaches developed by the French Surrealists with national cultural sensibilities and political concerns, taken together they are among the highest achievements of the interwar avant-garde. Woman in the Plural (1936), the first volume in this loose trilogy, adopted "objective chance" as its modus operandi (whereas the third and final volume, The Absolute Gravedigger (1937), was guided by the paranoiac-critical method).

Appearing in English translation for the first time, Woman in the Plural displays Nezval's prodigious talents in a variety of forms, styles, and genres as he spins images of the female form like a zoetrope to create novel and hallucinatory ways of conceiving woman's mythical, divine, and creative power. It is an eclectic collection that blends profound free verse, at times reading like a cascade of automatic writing, with pages from Nezval's dream journal, an exuberant set of Surrealist exercises, and a full-length play of chance encounters with "a woman like any other," all the while addressing the social and political uncertainties of the 1930s. Led off by Karel Teige's original collages from the first edition, Woman in the Plural is a vibrant and volatile tour de force from one of the greatest European artists of the 20th century.



What others say:
One of the most beautiful of Nezval's collections and one of the most interesting books in the entire corpus of modern Czech poetry.
— Vilém Závada, Gazette for Art and Critique (1936)




ISBN 9788086264561
198 pp.
135 x 190 mm
2 B/W collages
hardcover w/ ribbon bookmark
literature : surrealism
RRP: $21 • £15

release dates:
UK: February 8, 2021
US: April 5, 2021


Order directly via
PayPal – price includes
airmail worldwide
$20
or order from:



Book Depository

Bookshops
Indiebound
Bookshop.org
Bookshop.org UK
Amazon US

Amazon UK

Central Books

e-book
Kindle US

Kindle UK

Kindle Canada

Kindle DE

Apple iBooks
Kobo