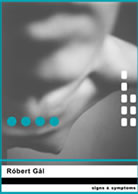 [ excerpt ]

also by the author:
Agnomia
On Wing
Naked Thoughts


author events:
Feb. 27, 2019, 8 p.m.
(A)void Floating Gallery
Prague
details here



about the artist:
Lucia Nimcová was born in 1977 in Humenné, Slovakia. A graduate of the Institute of Creative Photography (University of Silesia, Opava), she is considered a rising star among Slovak photographers, having already participated in a number of joint and solo exhibitions. Website here.


about the translator:
Madelaine Hron was born in Prague, grew up in Alberta, Canada, and received her doctorate from the University of Michigan. Her translations of French and Czech literature have appeared in several journals.


signs & symptoms
by Róbert Gál
translated from the Czech and Slovak by Madelaine Hron
photography by Lucia Nimcová


Called "the Czech Cioran" by Andrei Codrescu, Róbert Gál is one of the freshest voices to come from Prague over the past few years. His writing is a mix of philosophy and prose poetry that explores the tenuousness of one's identity and existence. Ironical in his outlook, Gál's aim with this volume is to bring the great Romanian philosopher E. M. Cioran into the present in the same way that John Zorn, whose music provided the impetus for writing this book, brought Ornette Coleman into the present. The volume includes aphorisms and longer and shorter "philosophical" fragments. The photographs by Lucia Nimcová were taken specifically for this collection. As aptly described by well-known psychiatrist/publisher Ales Pech, Nimcová's nude self-portraits act as a "counterpoint to the philosophical denuding that is the book's basic premise."



What others say:
In Signs and Symptoms, Gál relates the difficulties of communication to the breakdown of affinity or communion between speaking subjects.
Against this philosophical text [...] the illustrations – a series of nude self portraits by Slovak photographer Lucia Nimcová – play against the text like a sort of dance. As illustrations they are intentionally metaphoric, but I found that the contrast of remote or removed images, frequently showing no head or face, against tight close ups, foster a separate and unique philosophical monologue that works well to complement or contradict the text, both being valid and desirable effects...
Signs and Symptoms is the stunning account of an intellectual coming to terms with the fact that his intellect will serve him only so much and no more. The intelligent person has "faith" in their intellect as much as the reverent person has "faith" in their God. How shattering to find that both faiths are tenuous and may collapse at the slightest breath. But what a revelation to chronicle such a collapse.
I have to say that Gál's work seduces me in a way that poetry often does: it stands the mind up on a high wire stretched between absurdity and wholeness.
Rather than aphorisms, these are fragments of thought. As I was reading Gál's maxims I thought of Miguel de Unamuno, but I don't think that Gál is a Czechoslovak philosopher of Unamuno's standing. He is too young. Though in reading his fragments I asked myself anxiously: Is he really that young?
— Ivan [Magor] Jirous


Gál's aphorisms combine incisive question-raising and gently troubling images involving Time, God ("Even with God's help, hell is possible"), and existential self-awareness ...
— The Antioch Review


The author nevertheless makes apt and interesting use of the aphorism, occasionally lighting on that genuine nuance of meaning and language that is the ideal of the form . . . Signs and Symptoms does carry enough intellectual weight and sustaining interest to be a worthwhile read.
— The Absinthe Literary Review


Róbert Gál, a persona somewhere between an uncharming Blake and a charming Lacan, presents us with his book, Signs & Symptoms, a collection of fragmented and sometimes scattered thoughts focusing mainly on deciphering death and the life that leads to it. Sometimes, the collection seems like a series of tiny twigs that a frantic Gál, tries to stick into the rolling wheels of time. Other times, they are a peaceful meditation of the journey. ... But the whole thing is a rant — fragmented, sometimes distraught, sometimes peaceful — and a rant is very charged and wired, not always concerning itself with a listener or the clear articulation that goes along with communication.
— NewPages


Róbert Gál, even in his earliest texts, understood that aphoristic expression stripped to the bare bones creates the semantic field, into which enters both the strong message and the quiet which anticipates and follows the field. Sometimes it is even possible to capture momentarily the silence of things, which merely watch our world.
[I]maginative and equivocal philosophical riddles, which either skillfully paraphrase the words of the wise, curiously rephrase well-known proverbs, or present purely poetic ciphers.
— Mladá fronta Dnes


Signs & Symptoms forced me to think again, to think anew, to experience knowing as "a narrow, twisting hallway, lit by a fuse."
— American Book Review


The writing of Mr. Gál is very good ... Each page will have you talking to yourself and yes, you will answer. What more can you ask of a book?
— the muse apprentice guild


Actually, the structure of Gál's book — or lack thereof — is reminiscent of free jazz itself, with its incessant and endless riffing on metaphysical themes such as freedom, truth, death, and the nature of language itself, while fearlessly penetrating more obscure subjects not often dealt with in the practice of philosophy as an academic discipline; like Cioran and more writerly philosophers such as Nietzsche, Gál is a poet in the true sense of the word.
— Travis Jeppesen (author of Victims)


In our millennium, a time of reduction and minimization, the aphorism has rightly returned. Its master is Róbert Gál.
— The Forward




ISBN 9788086264066
84 pp.
14.5 x 20.5 mm
softcover with flaps
smythe sewn
9 B/W photographs
literature : photography
RRP: $12.50 • £7.50

release dates:
UK: January 2007
US: June 2003


Order directly via PayPal
price includes airmail worldwide
$12.50
or order from:



Book Depository

Bookshops
Indiebound
Amazon US
Amazon UK
Central Books