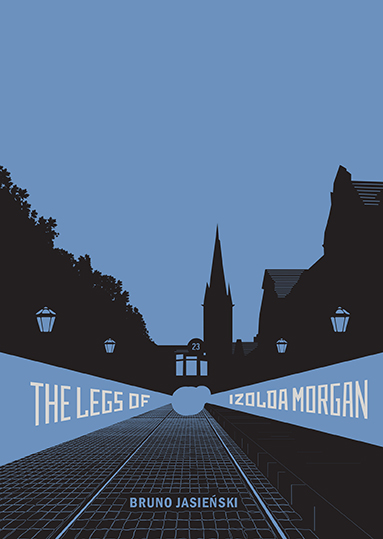 [ excerpt ]



also by the author:
I Burn Paris
The Mannequins' Ball


the legs of izolda morgan
Selected Writings
translated by
Soren A. Gauger (from Polish) & Guy Torr (from Russian)
frontispiece by Stanisław Ignacy Witkiewicz

Considered the enfant terrible of the Polish avant-garde, lauded by critics and scorned by the public, Bruno Jasieński suddenly declared the end of Futurism in Poland soon after his short "novel" The Legs of Izolda Morgan appeared in 1923. An extraordinary example of Futurist prose, this fantastic tale cautions against the machine supplanting the human while the human body is disaggregated into fetishized constituent parts. As central to Jasieński's oeuvre, the text is situated here between two seminal manifestoes and the important essay "Polish Futurism," which signaled the movement's end in the context of its confused reception in Poland, the towering influence of Mayakovsky, and what set it apart from the futurisms of Italy and Russia. The condensed story "Keys" displays Jasieński's turn toward satire to lambaste the hypocrisies pervasive in powerful institutions, and this is further developed in the two longer grotesques from his time in the Soviet Union in the 1930s. Translated into English from the Russian for the first time, these two late stories expose the nefarious absurdity of racial persecution and warmongering and the lengths social and political structures will go to underpin them.


Contents
To the Polish Nation : A Manifesto on the Immediate Futurization of Life (1921)
Nife in the Gutt (1921)
The Legs of Izolda Morgan (incl. "Exposé") (1923)
Polish Futurism (An Accounting) (1923)
Keys (1925)
The Nose (1936)
The Chief Culprit (1936)

What others say:
This is a fascinating collection of pieces, exploring a number of themes from questions of Polish (and Jewish) identity through to predictions of eternal conflict and control of society. The themes are still incredibly relevant today in our society with its dependence on gadgets, and the title story, in which is concentrated all of humanity's fear and hatred of the machine, contains a stark warning ...
— Karen Langley, Shiny New Books


The underlying intention of ["The Legs of Izolda Morgan"] is to show that the violent intervention of machines in human life undermines the accepted premises on which the categories of being alive and being human have conventionally been based. The story thus illustrates the reciprocal contamination of previously clearly distinct categories of human and mechanical. The story also maintains that this happens as a result of people's fascination with the external, purely material nature of life, which leads them to misinterpret the essence underlying the categories of human and mechanical.
— Agatha Krzychylkiewicz, The Grotesque in the Works of Bruno Jasienski




ISBN 9788086264400
163 pp.
13.5 x 19 cm
hardcover w/ ribbon marker
full-color frontispiece
novellas•manifestos•essay

cover by Dan Mayer

release date
May 1, 2014


Price includes airmail worldwide


or order from:




Amazon.com
Amazon UK

Amazon Canada
Amazon India
Amazon Germany

Central Books

e-book
Amazon US
Amazon UK
Amazon Canada
Amazon Australia
Amazon India
Amazon Germany
Amazon Japan
iTunes Bookstore
Kobo