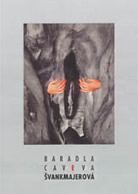 [ excerpt ]


Read about Jan Svankmajer here

Read an interview with the translator here

also by the author:



DVDs:
Collected Shorts
Faust
Little Otik


about the translator:
Gwendolyn Albert is from Oakland, California. She first came to Prague in autumn 1989 on a Fulbright and witnessed the Velvet Revolution first-hand, volunteering her time as a translator of Civic Forum's daily public pronouncements. She is the co-founder and Editrix of JEJUNE: america eats its young, and her own prose and poetry have appeared in journals such as Exquisite Corpse and Skanky Possum. She divides her time between Prague and Conneticut.


baradla cave
translated from the Czech by Gwendolyn Albert
illustrated by the author and Jan Svankmajer

Baradla Cave is a novel by the Czech Surrealist Eva Svankmajerová, who is perhaps best known for her paintings and collaboration with her husband Jan Svankmajer on a number of films. Originally published in samizdat in the 1980s, the book was republished in 1995 by Edice Analogon, having lost none of the force of its social critique and wit. Baradla is a living organism, both place (Prague) and person (a woman), and the novel explores maternity and femininity while offering a satirical look at the overweening mother-state and consumer society. As the language shifts between psuedo-scientific jargon, common vernacular, and metaphoric stream, scenes of episodic sexual violence alternate with humorous reflections on various ingrained habits and customs. Svankmajerova's sense of the absurd is seemingly without limit, fingering here practically everything having to do with modern urban existence: drug addiction, murder, sex crimes, corruption, and dysfunctional family relationships.



Praise:
Eva's Baradla is a work that will live a long life.
— Vratislav Effenberger


How long must English-language readers wait for someone to translate her.
— Penelope Rosemont (editor of Surrealist Women)


Svankmajerova's mode of literary expression is in like manner heavily visual in character and, like her paintings, the artist's writing reflects a delicate balance of reality and irony, humor and terror. . . . The novel is an astute and satirical — however troubling — account of late 20th-century society.
— Prager Zeitung


Svankmajerova's style of surrealism can be daunting at first. The stream-of-consciousness thoughts of one character often wind and wend their way into the mind of another. Whether that mind belongs to a man, a woman, or a cave is sometimes for the reader to decide. But her use of surrealism to convey non-life under totalitarianism pre-dates the same technique visible in Victor Pelevin's novel The Clay Machine Gun. Both works describe a crumbling society speeding towards America's consumer lifestyle, with large Japanese corporations in the driving seat.
— Blue Ear




ISBN 978 80 902171 7 1
140 pp.
14.5 x 20.5 cm
softcover with flaps
smythe sewn
5 full-color illustrations
fiction : novel

temporarily out of stock,
reprint forthcoming